Lego
I have always wanted a garden railway with radio controlled locomotives. Well, the big brass-models was out of finiancial reach, but a friend showed me an infrared controlled Lego-train.

Lego instruction leaflet suggests to build an unpowered crane car. Instead I build it as a self propelled vehicle with a much larger driving cab. This is my personal favorite.

I didn't like the unflexible fixed formation of the ICE passenger train. Instead I build two identical passenger coaches and a diesel railcar with passenger accommodation. Although verry different from the ICE-powercar the family resemblance is obvious.

The train is running on the terrace next to the house.

The little green luggage van was build mainly from unused locomotive parts.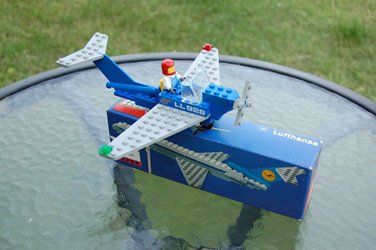 I just couldn't resist to include today's aeroplane. Although the Lufthansa Boing kit has contributed important parts, the final outcome is very far from the original. When I looked at the finished model I thought this was something the http://www.sandmann.de from DDR Television might arrive in.
This demonstrates the superb Lego idea: if you don't like what you see, you can always rip it apart and build something else :-)
Legoism is harmless. It can however be contagious. If your skin becomes knobs allover in a regular pattern, you should seek professional advice.

Pictlinx ver 3.2 with slideshow - www.hjelmenet.dk/software - 20090614 15:17